Scoring Console

Type: KS-GC16
Size: 330x290x140 (mm)
Weight: 3 KG
Cabinet: Plastic
Display: Full color LCD (7 Inch)
Power: AC 100V~240V
Network: LAN, WLAN
Sound: 6.5mm Audio
Lite Console

Type: KS-GC15
Size: 265x220x100 (mm)
Weight: 1 KG
Cabinet: Iron + Plastic
Display: Color LCD (4.3 Inch)
Power: AC 100V~240V
Network: USB, RS485
Function Comparison
| | Scoring Console KS-GC16 | Lite Console KS-GC15 |
| --- | --- | --- |
| Match Timer | | |
| Modify Match Timer | | |
| Break Timer | | |
| Shot Clock (Ex. Basketball 24s Shot Clock) | | |
| Team Score | | |
| Player Individual Score | | |
| Team Foul | | |
| Player Individual Foul | | |
| Player Penalty (Ex. Handball, Futsal) | | |
| Timeout | | No timing for timeout |
| Substitution | | |
| Switch between the SCORE and PLAYER screen | | |
| Advertisement Control | | |
| Extend Handheld | Match Timer + Shot Clock | Shot Clock only |
Be used together with the match scoring software. Can be used with variant kinds of matches.
Choose the wired or wireless communication method.
Operate the team score, team foul, player score, player foul, match timing, shot clock timing, as well as cancel for the operations.
Use the external match timer and shot clock handy for the independent operation.
Connect with the shot clock device for display the match timer and shot clock synchronously.


We can customize the localized console keyboard for you. Together with the same localized software, you can operate on the system easily.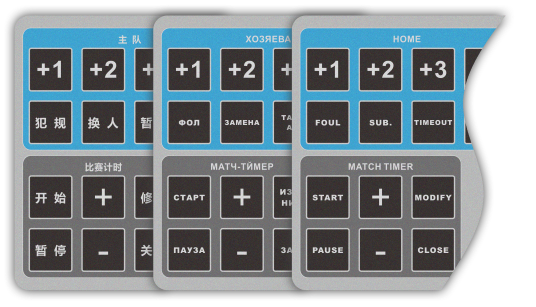 CE Certification