This is a match scoring system for stadium. Its functions include: Match management, Scoring, Timing, Statistics reporting, and Advertising displaying.
It supports over 40 match types, including Ball games, Combat, Gymnastics, Aquatics and Winter Sport and so on.
It can be used for LED, LCD, and projectors. The supported LED controllers include: LINSN, DBSTAR, SANSI, ZDEC, NOVA, COLORLIGHT, MOONCELL, etc. How to use with LED Screen
This system has been used on thousands of stadiums all over the world. It has handled a lot of international games successfully.



Evaluation Download




System Diagram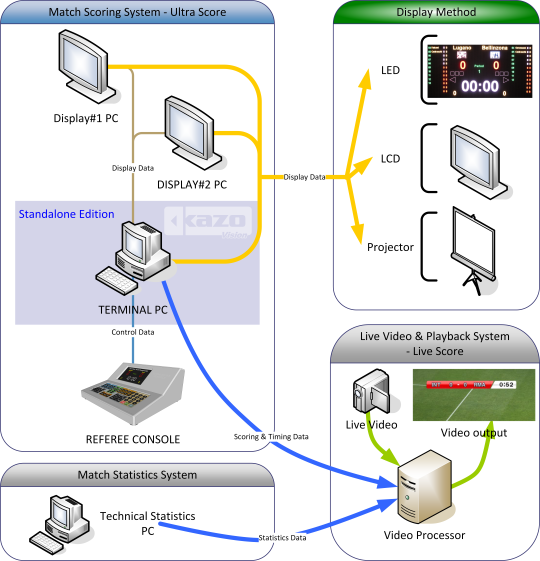 This system was composed by several modules, they are: TERMINAL PC, DISPLAY PC, and REFEREE CONSOLE:


TERMINAL PC:
The core of the system. Which can taking charge of all the match management and scoring functions.


DISPLAY PC:
The unattended PC is for display the scoreboard and the media contents onto the screen.


REFEREE CONSOLE:
Professional console device for scoring and timing during the match.


Applications
Ball:
Combat:
Athletics:
Gymnastics:
Aquatics:
Winter Sport:
Misc: