2011 November, Outdoor LED Screen system for Broadcast & TV of ZhangJiaGang City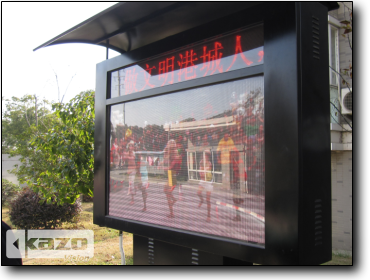 The system used our Digital Signage System for contents publishing. There are over 200 LED screens being managed remotely within this system. Users can monitor the screens and publish contents remotely as well as manager the power, adjust volume and adjust screen brightness remotely.
2011 May, Slovenia Ljudski vrt Stadium
As the home court of Maribor, Ljudski vrt stadium of Slovenia host the European Leagues and other important football matches in a long term. The stadium used Kazo Vision's soccer scoring system for scoreboard display.
2011 April, Shanghai Automobile Exhibition, Geely Intelligent Technology Centre
The system is a concept car display system for Geely. It includes a variety of safety and intelligent technology and makes users feel the experience of the new technology with the projector, sound, etc.
The video display system is connected to the CAN system of the car. It gives out various types of feedback with the operation of the virtual driver to simulate a real driving experience.
2011 January, Third World Chinese Taekwondo International Competition