2012 September, 2012 Nine Ball China Open Tournament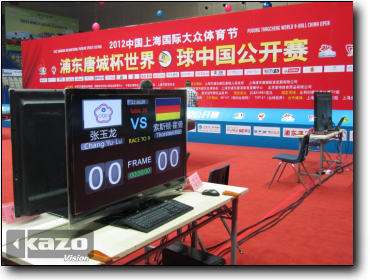 The match used our
billiard scoring system
. Which used the event management system to manage the information of every player. The real-time scores would be published on the live web site automatically.
The
Title Maker
system also be used on this match. The name and score information of the contestants be overlapped on live video in real time and convert into streaming media for broadcasting on the network.
2012 August, Nike Festival of Sports
Nike Festival of Sports held by Nike is an annual event loved by a large number of enthusiasts.
In the basketball tournament of current Nike Festival of Sports, our
basketball scoring system
was used to scoring and timing.
It also used our new product
Title Maker
. It overlaps the real-time score and match time signal onto the live video, and displayed on LED Screen.