Digital Signage System for Asynchronous LED Screen
In the asynchronous LED system, only the LED controller is needed at the screen side. Once the controller has been connected to the network, it will communicates with our WEB server automatically. Because we are using HTTP for the communication, the asynchronous controller can be put in any kind of sub network or 3G network, which doesn't need a static IP address.

Main Features,
The asynchronous controller will automatically be connected to the WEB server for monitoring and updating playlist remotely.
Auto diming the LED screen by scheduling which could be update remotely.
Auto diming the LED screen by brightness sensor, which can adjust the brightness of screen according to the ambient brightness.
Setting the schedule for auto power-on & power-off remotely.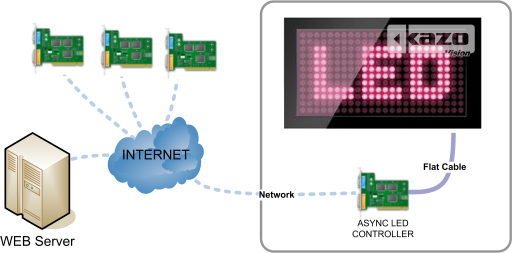 Type
K-20
Pixels
640 x 480
Network
INTERNET, WCDMA, GPRS, CDMA2000
Hub Board
General interface, sending card will pick up 1 HUB, each receiving card pick up 1 HUB
Display Type
Full color
Onboard Flash
500MB
Gradation
4096
Communication Interface
Ethernet / Flash stick
Media Formats
Video, Image, Text, MS Word, MS Excel, RSS, Clock, Timer, Weather, Sensor
Feature List
Monitor through WEB system
Multi-region display
Schedule through multiple scripts
Update the program through WEB
Screen brightness adjustment
Acquisition of temperature and humidity
3rd party LED Controllers